2011 Right Livelihood Award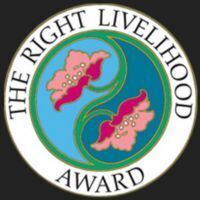 Learn more about the Right Livelihood Award (click here for information and purchase)
When you select any Amazon item to buy from the Voices Education Project web site, and then check out at Amazon.com, a portion of your purchase price will be paid to Voices to support our work. 
The 2011 Right Livelihood Awards were announced today at a press conference in Stockholm by Ole von Uexkull, Executive Director, and Monika Griefahn, Co-Chair and Jury member of the Right Livelihood Award 
Foundation.
The 2011 Right Livelihood Awards go to four recipients.  One award is an honorary award, the three other laureates will share the ! 150,000 cash award.
HUANG MING (China) receives the 2011 Honorary Award "for his outstanding success in the development and mass- deployment of cutting-edge technologies for harnessing solar energy, thereby showing how dynamic emerging economies can contribute to resolving the global crisis of anthropogenic climate change". It is the first time that a Right Livelihood Award goes to China.
The Jury awards JACQUELINE MOUDEINA (Chad) "for her tireless efforts at great personal risk to win justice for the victims of the former dictatorship in Chad and to increase awareness and observance of human rights in Africa". It is the first time that a Right Livelihood Award goes to Chad.
The Jury awards GRAIN (International) "for their worldwide work to protect the livelihoods and rights of farming communities and to expose the massive purchases of farmland in developing countries by foreign financial interests".
The Jury recognises INA MAY GASKIN (USA) "for her whole-life's work teaching and advocating safe, woman-centred childbirth methods that best promote the physical and mental health of mother and child".