Lucie and Raymond Aubrac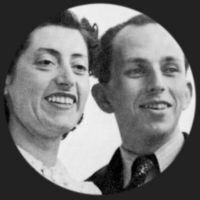 Lucie Aubrac was a history teacher when she met Raymond, a Jewish engineer and army officer, in France in 1938. After France fell to the Nazis, the two joined the French Resistance, helping found the group Liberation-Sud. In 1943, Raymond, who was now an important leader in the Resistance, was captured by the Gestapo and scheduled for execution. A pregnant Lucie convinced the notorious Gestapo chief, Klaus Barbie, nicknamed the "Butcher of Lyons," to let her see Raymond and during the visit, she relayed an escape plan. As he was being driven back to his cell, Lucie and other Resistance members ambushed the truck, freeing Raymond and other Resistance fighters. The two escaped to London, returning to France after the War, with their three children. Although the War was over, they remained committed to justice and freedom, defending immigrants' rights, drawing attention to France's treatment of Algeria, and touring France to talk to students about the Resistance, which, Lucie argued, was not over:
Resistance is not just something locked away in the period 1939-45... Resistance is a way of life, an intellectual and emotional reaction to anything which threatens human liberty...The word 'resistance' should always be conjugated in the present tense.