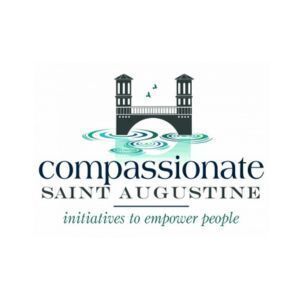 Location and Demographic
Compassionate St. Augustine encompasses the City of St. Augustine and it's surrounding areas. Located approximately 30 miles south of Jacksonville, Florida, the City of St. Augustine is approximately 10 square miles. St. Augustine, which was established in 1565, is the oldest city in what is now the United States of America. As of 2023, the population of St. Augustine was slightly more than 15,000.
We gratefully acknowledge that we exist on the unceded ancestral homelands of the Mocama-speaking Timucuas. We recognize that other Indigenous peoples also built homelands here, including the Yamasees and Guales. For thousands of years, Indigenous peoples made this region into a vibrant center of diplomacy, exchange, and religious practice. We pay respect to these nations and to their descendants.
We further recognize the historical and ongoing impact of colonization in our region and state as well as the resiliency of Indigenous peoples. Today, Florida is home to the sovereign nations of the Seminole Tribe of Florida and Miccosukee Tribe of Indians of Florida, as well as citizens of other Native nations and communities whose ancestors include Mocamas, Yamasees, and Guales.
Mission
Influence and grow a culture of compassion through advocacy, awareness, and action.
Vision
Inspire others to make a positive impact by fostering a culture of compassion locally, nationally, and globally.
Values
Advocacy: Through advocating for those in need, strive to make a positive impact on the lives of individuals and communities by uplifting, supporting, and championing their voices with unwavering compassion.
 
Social Responsibility: Fostering a culture that creates a better future for individuals, communities, and the environment.
 
Sustainability: Commitment to creating lasting change, building a culture of compassion that endures over time.
 
Collaboration: Through partnership and teamwork, participating in collective efforts support individuals and communities in need.
Contact Information
2210 Vista Cove Road St. Augustine, FL 32084
Send us an Email! or give us a call (314) 249-8500
Visit our Website, Facebook page, LinkedIn, YouTube and TikTok!
---