Mussie Hailu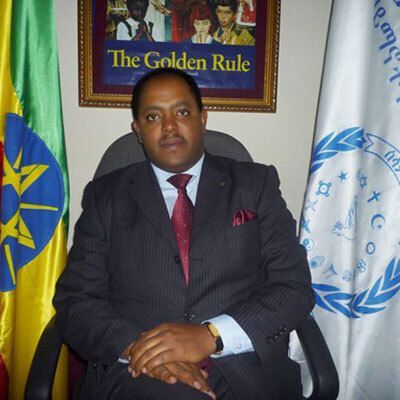 Hon. Mussie Hailu born and grew up in Addis Ababa, Ethiopia and studied Comparative Religions, International Relationships, Management and Metaphysical Philosophy. He also attended at the Peace building & Development Institute at School of International Service of American University Summer Course. 
He is an international advocate and activist for Culture of Peace, Interfaith Harmony & cooperation, world citizenship, right human relationship reconciliation & dialogue, environmental protection and volunteerism.
He serves with many Peace and humanitarian organizations, as he strongly believes in the work of this organization toward creating and building a culture of peace and better world for all. Among many international, regional and national organtions he works with his responsibilities are: 
Representative of world Federation of United Nations Associations to the Economic Commission of Africa (ECA) and African Union (AU),
Lifetime Deputy Governor of the American Biographical Research Institute,
Good will Ambassador of Burundi,
Vice Chairperson of United Religions Initiative,
Peace Representative of the World Peace Society,
Chairmanof Haile Selassie Aid Ethiopia,
Special Adviser to Africa for World Peace and Love Federation,
Good will Ambassador of Unity and Reconciliation Commission of Rwanda,
Country Director of HOPE'87, an international organization which works to alleviate youth unemployment problem,
Special emissary to his Majesty King Kigeli V of Rwanda,
Patron of United World College National committee of Ethiopia,
Board Chair of Interfaith Peace-Building Initiative,
Representative of World Citizen Association for Africa,
African Diaspora Foundation Chairman for Africa,
Ambassador of Peace and Advisor of Center for Peace building International.
---
Go Back: Cristina Gonzalez                            Next page: Amin Hashwani