by Michellle Burwell
 
This week a woman in Texas learned that a mother in Oklahoma had been leaving McDonald's with her two young sons when they were struck by a car. Her youngest son, just three-years-old, was killed. The women's lives had crossed briefly three years before, when they bonded at a wedding, both being pregnant.
The woman knew then who she would give her key to. She wrote the definition of courage on a card and she and her husband drove across three states (460 milse) to be with the grieving family, and to pass along the small key engraved with the word "courage."
And so The Giving Keys go. A person purchases a key engraved with a word they feel may be lacking in their life. Faith. Hope. Courage. Fight. Dream. They wear the key, embrace the message, and when the moment has come that someone else seems to need the word more, they pass the key forward. And then they go back to The Giving Keys site and tell their story.
The Giving Keys began receiving stories from people who'd given keys and people who'd received keys. Keys have circulated through all different walks of life from people in chemotherapy wards fighting cancer to college students setting out on their own for the first time. But the business, which began out of complete happenstance, has evolved into something bigger than its founder could have ever even imagined.
L.A.-based singer-songwriter and actress Caitlin Crosby grew up in Hollywood. Early on she remembers feeling overwhelmed by the vanity of the industry. To rebel, she'd tell her parents she was going to a party, and then sneak off to youth group. She always knew she wanted to do something that made a difference, but didn't know what that something was. She found herself, like so many do, overwhelmed by the weight and pervasiveness of some of the world's biggest problems—unsure of what one person could actually do to make a difference.
But The Giving Keys seemed to come effortlessly. One day, while on tour, Caitlin wore her hotel room key around her neck to a show. She decided she'd take it to a locksmith and get it engraved. Over time, she began engraving more keys and selling them at her merchandise table. Soon the keys were selling out. She knew then that she had stumbled upon something significant.
In a TEDTalk Caitlin said she would tell her audience, "I want you to get a key that reminds you that you're special; you're one of a kind just like these keys." The keys are old, used, flawed and discarded. It symbolizes some of the self-esteem issues so many people deal with on a daily basis.
As the keys continued to sell out at Caitlin's concerts, thousands and thousands of pay it forward stories began pouring into the site. The social entrepreneur role, sort of inadvertently took over Caitlin's life. But she knew she wasn't done. She knew she wanted to give the proceeds to a charity, but couldn't figure out where she wanted the funds to go. So she waited. She waited six months.
"So one day, I was walking down Hollywood Blvd., leaving church, and I was crying. 'What is the meaning of life? What is the point of all this? I'm bursting with this, I want to help and change the world but what can I do. I don't know,'" Caitlin explained to the TEDTalk audience.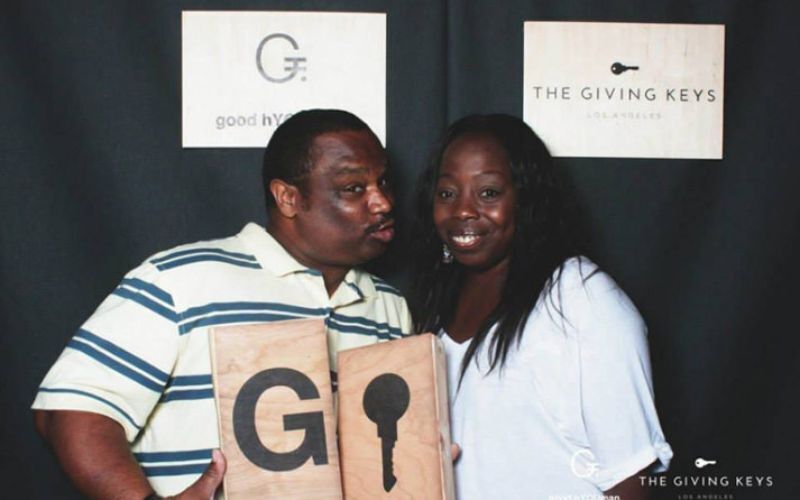 That's when she ran into two people, Rob and Cera, sitting on the street under an umbrella with a sign that read "Ugly, Broke and Hungry."
Caitlin decided to take the couple to dinner. They had drinks and talked for a few hours and towards the end of the night, Caitlin mentioned to Cera that she liked her necklace. Cera replied that she made jewelry. And like that, everything fell into place.
Caitlin decided she would employ the homeless to make the keys; and Rob and Cera agreed to be her first business partners. Rob and Cera would make the keys that Caitlin would then sell at her shows. The couple began saving money from the work. They saved enough to stay in a motel and then eventually saved up enough to get their own apartment.
Both took the GED and Rob, who was raised on the streets and had never really had a home of his own, got an astounding 98 and 99. "It was so interesting to see that there was literal gold inside of these people and sometimes they just needed a little oomph," said Caitlin. Rob's parents still live under a bridge in San Diego, yet here he was completely transforming his life, breaking out of the relentless and indiscriminant cycle of poverty.
After the success of Rob and Cera, Caitlin hired ten more people trying to transition out of homelessness, five of whom have gotten completely off the streets. One couple, Jeff and Norma, met while engraving keys, fell in love, got engaged and got an apartment together—all because of The Giving Keys.
"My encouragement to you all is this," Caitlin said in her TEDTalk, "Keep your eyes open to all the needs you see around you. They're all over the place."
Mother Teresa said, "Do not wait for leaders, do it alone. Person to person." It's simple, said Caitlin. You see someone who's hungry; get them food. You see someone who's cold; give them one of the dozens of blankets you likely have stacked in a closet. "There are locks all around you. And maybe you hold the key to someone else's freedom," said Caitlin. But whatever you do, if you receive something good, pass it forward.
Want to get involved? 
Since the beginning, The Giving Keys has employed 19 people experiencing homelessness, providing opportunities for the team members to move into permanent housing. Today, The Giving Keys are carried in over 500 stores in the US and internationally including Anthropologie, Fred Segal, Henri Bendel and Kitson. You can also order a key online from The Giving Keys
 
See original article from source: Truth Atlas
---