If we are willing to embrace the challenge of becoming whole, we can't do it alone. We all need other people to invite, amplify, and help us listen to our inner teacher. We all need trustworthy relationships — tenacious communities of support — if we hope to sustain the journey towards wholeness.
~ Parker Palmer
The Charter for Compassion works with the Center for Courage and Renewal to promote Circles of Trust. Our Board of Trustees and lead staff meet bi-monthly in a Circle of Trust. The exploratory information below is adapted from the Center of Courage and Renewal. The Charter for Compassion is committed to expanding Circles of Trust among our staff, coordinators and with sector partners.
While the forces of exhaustion, loneliness, violence, and injustice are real and undeniable, so are the powers of human authenticity, generosity, courage, and community that rise up to meet them.
Whatever personal or societal challenges we face, the resources we need to transform our lives and the world can always be found within us and between us – in the human heart and in community. When we fully embrace the genuine within ourselves and honor the inherent worth and dignity of every being, we unleash the power to build a better world.
The source of our integrity – the genuine within us – goes by many names: soul, true self, inner light, identity. When we connect with that part of ourselves and celebrate it in others, we gain a clearer understanding of who we truly are, why we're here, and the gifts we bring to the world individually and collectively.
When we show up in our homes, relationships, workplaces, communities, and ecosystems rooted in our own integrity and with a deep bow to human dignity, we inspire hope in those around us and foster the relational trust and stamina we need to keep moving, step by step, toward a more loving, equitable, and healthy world.
Practices of the Courage and Renewal approach are illustrated below. Through their approach, there are consistent practices of being with ourselves and in community that invite the soul, shifting what is possible within us and between us. While these ways of being are always available to us, practicing them in trustworthy communities helps strengthen our capacity to choose and use them. Bringing these practices in our homes, workplaces, and communities can transform them, in ways that are more life-giving for all living things.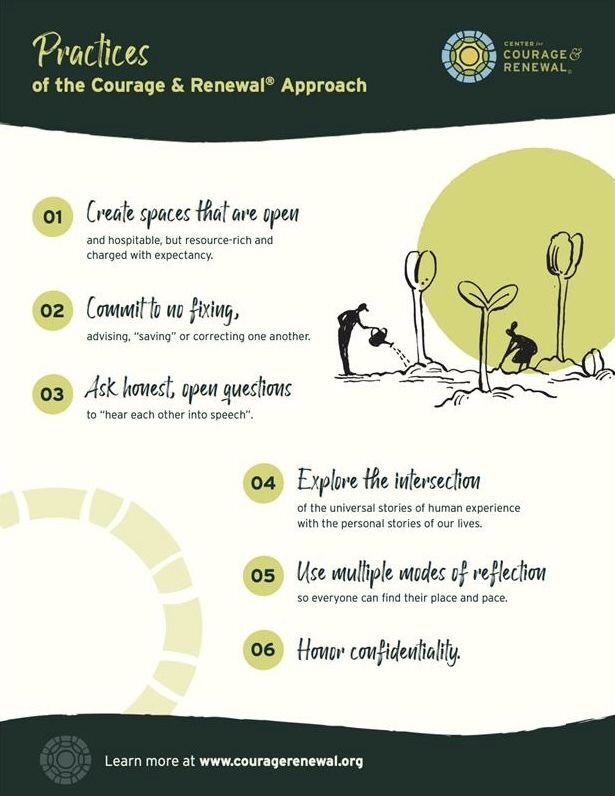 ---