by Amanda Scherker

Second-grader Christian Bucks, of York, Pa., knew that some of his classmates felt lonely during recess, and he decided to do something about it. His simple, utterly heartwarming solution was to install a playground "buddy bench."
As reported by the York Daily Record, a buddy bench is a designated seating area where students feeling lonely or upset can seek camaraderie. The area is customarily painted in bright, inviting colors.
Christian first spotted a buddy bench in a brochure for a school in Germany, according to the Record. He pitched the idea to Roundtown Elementary School Principal Matthew Miller, who immediately got on board. Miller even let Christian help pick the bench's style and colors.
Christian told the Record that he hopes the bench will help "grow our dream circle of friends."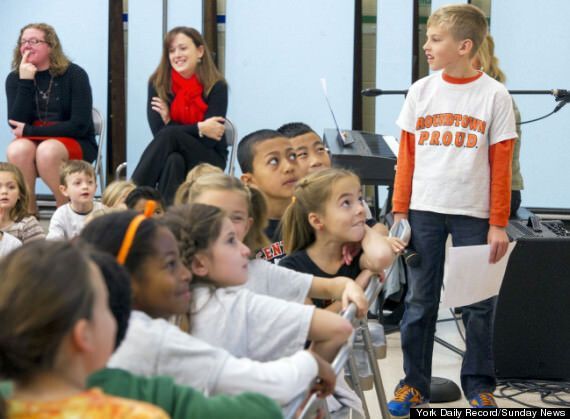 Christian isn't the only student to think his school playground could benefit from these kinds of fixtures. Last month, St. Catharine's Primary School in Chipping Campden, England, installed its very own buddy bench to facilitate playground friendship, according to area news outlet Cotswold Journal. Students received the bench enthusiastically, and Headteacher Joanne Welch spoke glowingly of the project.
"It is lovely to see the children demonstrate such care for each other," Welch told the Journal. "So many lifelong friendships of course start in the school playground."
A buddy bench is more than just a playground decoration. Designating such a bench is a helpful way for schools to facilitate "peer support" among students, wrote University of Sulley professor Helen Cowie for a chapter in Promoting Emotional Education, a collection of essays designed to encourage unique approaches to teaching. In her essay, Cowie cites peer support as a critical factor in combating school bullying. 

See original article from source: 2nd-Grader's Cure For Playground Loneliness: A Buddy Bench
---