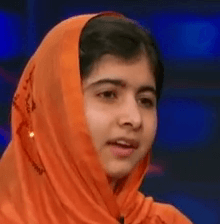 In 2012, the Taliban shot (then 14-year old) Malala Yousafzai, a Pakistani education activist for girls' rights to education.
In Swat Valley, the Taliban banned girls from going to school.
The Taliban gunmen's attempt to kill her failed. They wanted her dead because of her open—though, under a pseudonym—stance against the Taliban rule forbidding girls from receiving education.
She wrote a blog detailing her life under the Taliban rule. She made a full recovery from the gunshot wound in England. She was the youngest ever to be nominated for the Nobel Peace Prize. (It was awarded to the Organization for the Prohibition of Chemical Weapons.)
The book, I Am Malala, and now a petition in Malala's name by the UN, demands all children worldwide to be in school by the end of 2015.
When interviewed by Jon Stewart, Malala proves herself to be a true female Gandhi by advocating a fight through peace, rather than with cruelty, or violence. When asked about how she reacted when she found out the Taliban wanted her and her father dead, she said:
'If he comes, what would you do Malala?' then I would reply to myself, 'Malala, just take a shoe and hit him.' But then I said, 'If you hit a Talib with your shoe, then there would be no difference between you and the Talib. You must not treat others with cruelty and that much harshly, you must fight others but through peace and through dialogue and through education.' Then I said I will tell him how important education is and that 'I even want education for your children as well.' And I will tell him, "That's what I want to tell you, now do what you want.'"
Her response parallels Gandhi's famous quote, "an eye for an eye would leave the whole world blind." She fights, like Gandhi, as a peaceful warrior, a full-hearted being, with both of their weapons being that made of peace, compassion and knowledge.

Source: Introducing a Female Gandhi: 16-Year Old Malala.
---