Date: January 18th, 12pm PST
Join the Charter for Compassion and hundreds of other organizations as we invite you to join us as we observe the sixth annual National Day of Racial Healing. The day is an opportunity to bring all people together in their common humanity and inspire collective action to create a more just and equitable world. Last January, in the wake of the violent insurrection that occurred Jan. 6, thousands of people participated by viewing the virtual event and through more than 100 local events held across the nation. The discussions included insights and solutions on many topics including employment equity and law and racial justice—all with the aim of helping our nation heal and advancing racial equity.
As we move forward in our communities and as a nation on our collective journey to achieve racial equity, we must find time to speak and hear the truth about past wrongs and present consequences created by individual and systemic racism. The National Day of Racial Healing provides a time and space for people to acknowledge and see the humanity in others, to facilitate trust, and to build authentic relationships that begin to bridge divides. Now, more than ever, we need to actively come together and heal.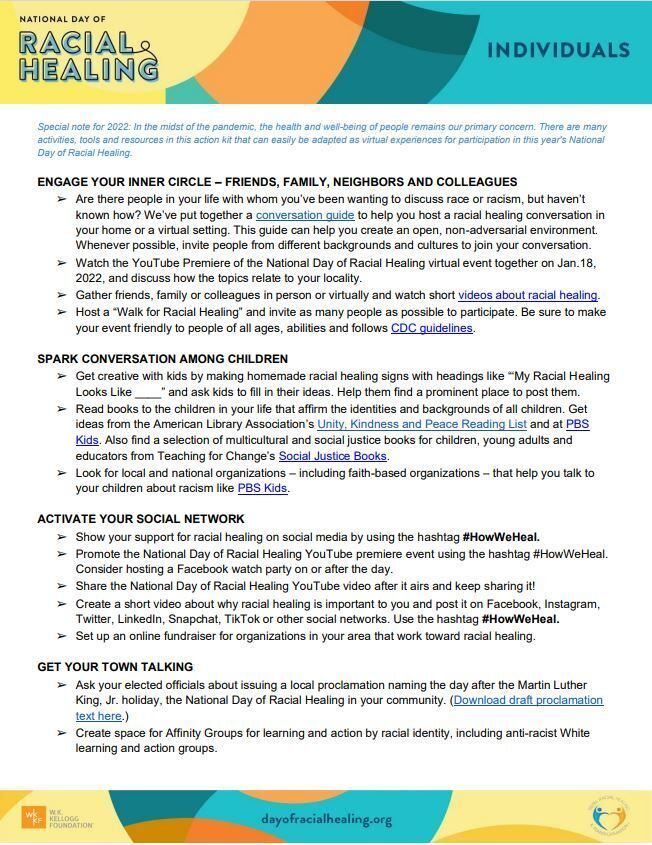 ---