- An exploration of the Work That Reconnects and other sources for activating our hope and passion -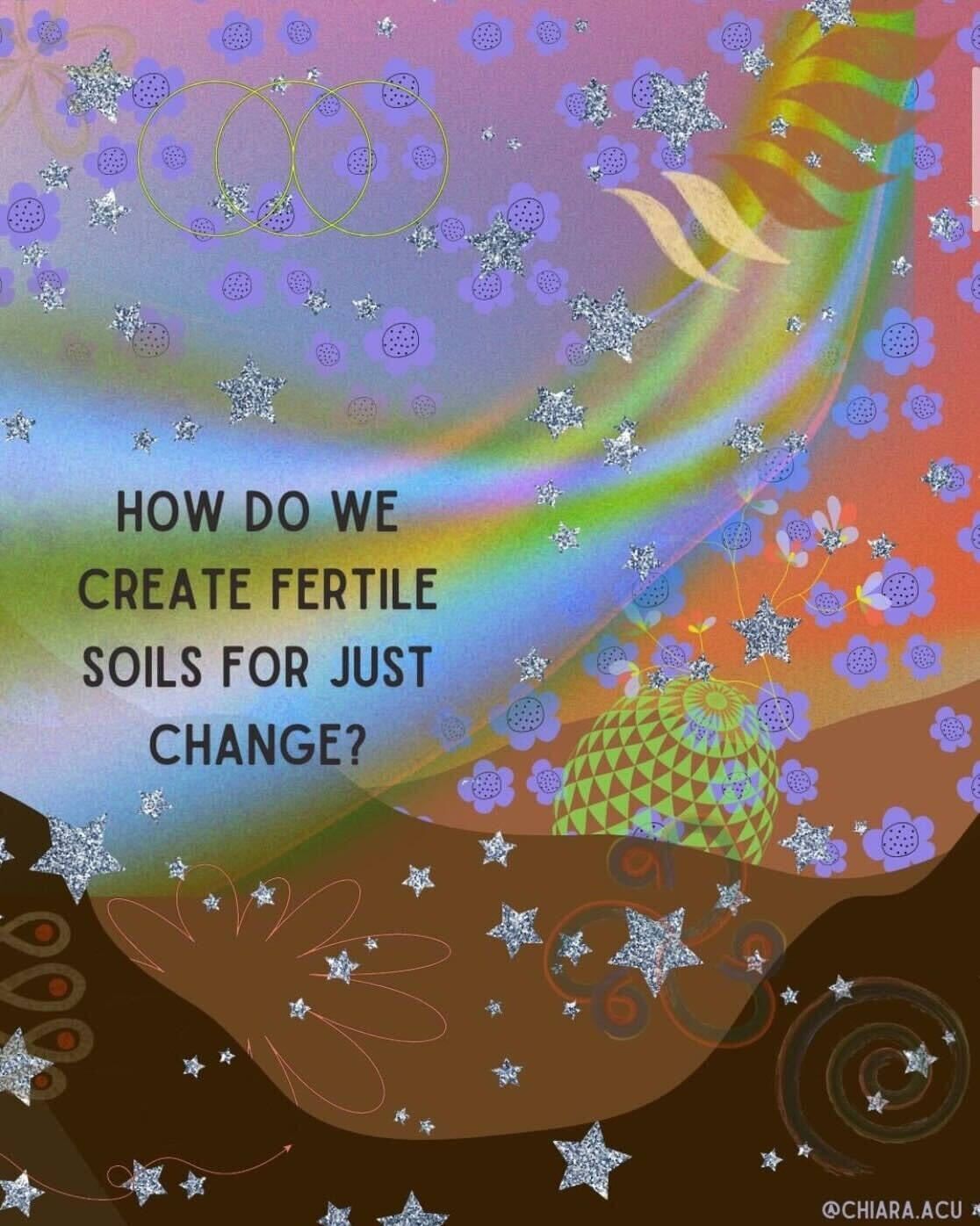 By Permission from the artist, Chiara Acu
Start Date: January 16, 2023
Duration: 6 weeks
Tuition: Your support is $40 with all proceeds donated to Reparation projects and the Charter
Registration: Registration has been closed.
Zoom: Zoom sessions will be 90 minutes, once a week, starting with the second week, and are an integral part of the course. Due to the sensitive nature of our sessions, they will not be recorded.
Zoom Dates and Times: Wednesdays January 25, February 1, 8, 15, 22
8:30 am Pacific, 11:30 am Eastern, 4:30 pm UK, 6:30 Israel and South Africa
 
******Special guests, February 8 Zoom session!
Chris Johnstone for the Charter's Globarl Read, Active Hope: How to Face
the Mess We're in with Unexpected Resilience and Creative Power, revised edition. 
Joanna Macy will unfortunately not be able to join us since she is recovering from her recent illness--we wish her continued healing. 
No additional cost for course participants—donations welcomed

Scholarships: If you are enthusiastic about this course but cannot make a donation due to financial hardship, please ask about the availability of a scholarship.
Facilitator: Ellen Serfaty

About the Course
How do we live in our damaged world, without closing our eyes, or losing hope?
How do we not only express our suffering to each other, but also our gratitude for the beauties of nature and our world?
How can we open our eyes and heart, connect with others, human and non-human and see our world anew?
How can we move forward, and be active in protecting our planet, our home?
And once we find our "niche", how to we maintain it? Where do we find support for continuing our work for our world.
My name is Ellen Serfaty, and I am a facilitator for the Work That Reconnects, as well as volunteer educational advisor with the Charter Education Institute.
This is our second year of offering this course, and we welcome new participants to learn about the Work That Reconnects and other amazing resources and organizations that support our activism.  We look forward to new participants joining our community of previous participants to build an even stronger support network.
A little about what brings me to this work: 
When we moved to the northern Mediterranean a few years ago, I thought I was in paradise! Beautiful beaches, wild lagoons, a nature and marine reserve right outside our door, full of life.
Until I found two beautiful sea turtles near our lagoons….dead, having swallowed plastic bags that they mistook for their primary food, jellyfish.
And I started noticing all the garbage, plastic, one-time use plates and utensils, bottles, fishing nets, cigarette butts and more, littering our beaches, being washed into the sea to destroy more sea life.
My heart was breaking.
Then, I turned to online workshops (it was the beginning of COVID) of the Work That Reconnects and became a facilitator. I also joined Upaya Zen Center's Socially Engaged Buddhist Training program, now in its second year, and we all learned how deep practices can support our activism for this world.
I'm in my fourth year as a Volunteer Coordinator for the Israeli Nature's Authority's efforts to protect sea turtles, their nests, and hatchlings, as well as our ever enlarging and delicate coastal marine reserves. This field work transformed me from an arm-chair environmentalist to an active field volunteer…as the saying goes, I became part of the solution.
I learned—and hope to share with you—how to honor my heartbreak, see the world with new eyes, and move into action on behalf of sea turtles and other beautiful creatures and plants, research on the impact of the climate crisis, and beach cleanup and advocacy groups in our new neighborhood that also involved cleaning up tar that had washed up on our shores, with thousands of other volunteers.  I met "my people", others who cared deeply, and we learned to work together.
Last year, I shared what I learned, the spiral practices of the Work, and much more, with caring participants around the world, through this course. We continued to support each other throughout the year in monthly Zooms.
This course will feature an extensive online learning space and experience on the Ruzuku platform with many resources to explore, guided meditation and imagery to accompany your journey, questions to contemplate and reflect upon, new tools and techniques to explore your passions and help you on your activist journey, and opportunities to discuss what we are learning with fellow participants and me.
Music, song, poetry and more will feature often to enhance our work together and speak to our souls.
The most important part of this course will be the Zoom sessions, where we will "practice" the four stages of the Spiral of the Work That Reconnects.
So please join a rich diversity of people, who share lovingly and generously—and know that I play an active part in these dialogues.
I am a sharer and connector by nature, and there will be many, many resources for you to explore during the course, but after, as well, for at least six months.
See you soon on line!

Each Zoom session features:
Welcoming each other and the diverse family of human, more-then-humans and the elements of planet earth
 
Focusing—guided meditation
 
Reaffirm our container that holds us in a safe, gentle space ("rules" for being together)
 
A poem or sharing that you have posted on the discussion forum
 
Check in breakouts relating to our spiral practice
 
Spiral practices
 
Songs
 
Closing

Course Overview
Week One—We start our journey, exploring activism, what prevents or blocks us from working to save our planet, an introduction to Joanna Macy and the Work That Reconnects, and other "game changers" that support activism and lead to the Great Turning. No Zoom session is scheduled for this first week, and especially new participants have time to begin their explorations, while returning participants can share their journey over the last year in our discussion forums.
 
In Week Two, we begin the Spiral by learning to come from a place of gratitude and we begin our Zoom sessions. We will explore how we practice gratitude in our everyday lives, and how it informs the Work That Reconnects, as well as other spiritual practices.

In Week Three, we enter the second stage of the Spiral, honoring our pain for the world, and expressing our suffering. We will have the opportunity in our Zoom call to share practices that will encourage us to express our feelings about what is happening to our world, experience our connection with each other as we explore this pain, and how this leads to compassion.

In Week Four, we move from our pain to "Seeing the world with new eyes".  In our Zoom call and resources we will explore our ancient roots, and our futures, how we are an inter-connected part—rather than an isolated being—of this world, and learn about Deep Time.

In Week Five, we will explore how to move forward. In our Zoom call, we will ask ourselves what we are called to protect in our world, and how we will take first steps. And we will share how we can hold ourselves accountable to take action.
 
In Week Six, we will share our stories: We will look back at where we began, either last year, in previous years, or these past few weeks, and where we are now. And our intentions for finding, creating, and maintaining this community of support for our work in the world.
About the Facilitator
Ellen (Hoffenberg) Serfaty I am a retired American-Israeli, who grew up in a diverse Bronx community and then rural area of New York, and later joined a large North African-Moroccan "tribe" through marriage, and raised my daughter, in Jerusalem, Israel, I am living in the northern Mediterranean area of Israel. I spent 45 years as a public service lawyer, leading human service organizations, and teaching teachers and people of all ages with special needs students. I'm a meditation practitioner for many decades, and part of several international sanghas.
Since retirement, all my "work" is volunteer, including the Charter Education Institute, groups to learn about the Work That Reconnects, and working with the Network's Anti-Oppression and De-escalating Harmful Patterns of White Supremacy groups, and coordinating volunteers to protect sea turtles as well as our marine reserves, and other local environmental efforts.
My main role now is a Nana:-)
Feel free to contact me for more information.

Read what past participants say about this course:
"Ellen's way of teaching this pulled everyone in to participate whole-heartedly"
"I loved connecting with everyone on the Zoom calls. Hearing others share broadened my understanding of the issues."
"I appreciated creating a safe container and inviting people to share intmately."
"I feel more hopeful as I listen to other's stories of enthusiasm, expertise, & perseverance."
"Ellen was beyond superb as a teacher. Her empathy was beautiful"
"Ellen was masterful with time, connection & engagement, encouraging but not shaming, compassion without syrup, and centering the group. Kudos!"
"This course has provided multiple new lenses through which to view "activism." Ellen is a superb facilitator. The zoom experiences were both challenging and very rewarding. Her course material and dialog prompts woke up my muse and have led to a streaming of poetry. I had never identified myself as a poet. Now I do :-)"