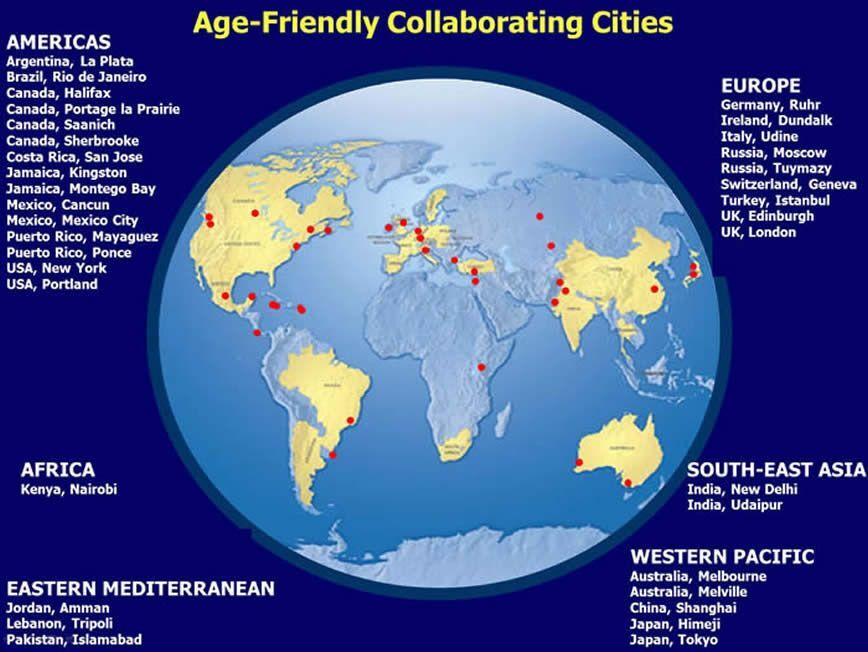 In 2006, the world health organization (WHO) developed a Global Age-Friendly Cities Project. This project brought together cities from around the world that were interested in supporting healthy aging by becoming more age-friendly. These cities gathered information from seniors, senior care providers and other groups and individuals with an interest in age-friendly communities. This information helped to identify eight key areas of community life in which communities can become more age friendly.
The information below about age-friendly cities is adapted from a publication of the World Health Organization: Global Age-Friendly Cities: A Guide, 2007. 
For more detailed information about each of the categories included in this outline, please refer to the guide, which includes specific suggestions for creating age-friendly environments under each of the topics.
Outdoor Spaces and Buildings
Pleasant and clean environment
Importance of green spaces
Somewhere to rest
Age-friendly pavements
Safe pedestrian crossings
Accessibility
A secure environment
Walkways and cycle paths
Age-friendly buildings
Transportation
Availability
Affordability
Reliability and frequency
Travel destinations
Age-friendly vehicles
Specialized services for older people
Priority seating and passenger courtesy
Transport drivers
Safety and comfort
Transport stops and stations
Taxis
Community Transport
Information
Driving conditions
Courtesy towards older drivers
Parking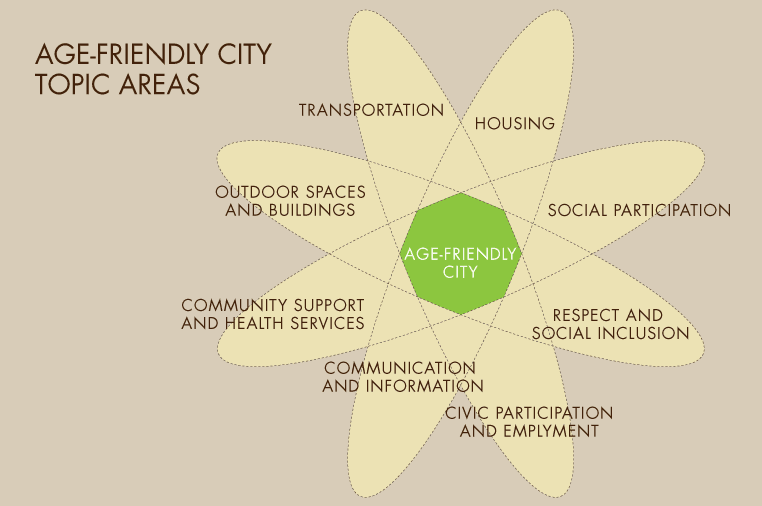 Housing
Affordability
Essential services
Design
Modifications
Maintenance
Access to Services
Community and family connections
Housing options
Living environment
Social Participation
Accessible opportunities
Affordable activities
Range of opportunities
Awareness of activities and events
Encouraging participation and addressing isolation
Integrating generations, cultures and communities
Respect and Social Inclusion 
Respectful and disrespectful behavior
Ageism and ignorance
Intergenerational interactions and public education
Place within the community
Helpfulness of the community
Place in the family
Economic exclusion
Civic Participation and Employment
Volunteering options for older people
Better employment options and more opportunities
Flexibility to accommodate older workers and volunteers
Encouraging civic participation
Training
Entrepreneurial opportunities
Valuing older peoples' contributions
Communication and Information
Widespread distribution
The right information at the right time
Will someone speak to me?
Age-friendly formats and design
Information technology:  boon and bane
Personal and collective responsibility
Community Support and Health Services
Accessible care
A wider range of health services
Ageing well services
Home care
Residential facilities for people unable to live at home
A network of community services
Volunteers wanted
Other issues
---