Ofelia Ortega Suárez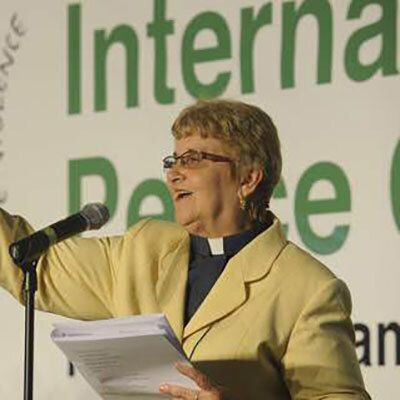 Rev. Dr Ofelia Ortega Suárez, of the Presbyterian-Reformed Church in Cuba, a pioneering woman theologian and ecumenist, was the first Presbyterian woman to be ordained in Cuba. She is also an elected member of the Cuban National Assembly and completed a term as President for Latin American and the Caribbean of the World Council of Churches in 2013.
After completing her Basic studies in theology and Christian education at the Union Theological Seminary, Matanzas, Cuba, Rev. Ortega attended the ecumenical Institute of Geneva University in Switzerland to do a post-graduate course in Ecumenical Theology. Her training in Europe was also affiliated with the lay training courses of the Evangelical Academics in Europe. She subsequently returned to Cuba and successfully completed her Master studies in Divinity and Education.
In 1960 she joined her alma mater, Union Theological Seminary of Cuba as professor of Pastoral Theology. She served there until 1985 as a theologian in Cuba during a crucial phase in the history of the country; she played a significant role in interpreting the challenge of the Gospel to the modern Cuban State and Society. During this period, she also closely associated with several radical women's and students forums, notably the Student's Christian Movement in Cuba.
Her ecumenical involvement outside Cuba has been closely connected with the institution and programmes of the World Council of Churches. For over two decades, she has been closely associated with several Commissions, Committees and Assemblies of the World Council of Churches. Since 1985, she has been Professor at the Ecumenical Institute in Bossey, Switzerland. As a pioneering woman theologian and ecumenist, she has throughout been deeply committed to upholding the dignity and participation of women in Church and Society. With a view to re-interpreting theology and ecumenism from the feminist perspective, she has been organizing women's seminars at the Ecumenical Institute in Bossey every year since 1986.
All through her life, she has been deeply loyal to her Church, the Presbyterian Church in Cuba, and ordained by the Presbyterian reformed church in Cuba in 1967 (first woman to be ordained from the Reformed Tradition in Cuba and in Latin America); she served local congregations for eight years until 1985. She was General Secretary of the Programme Agency of the Presbyterian Church in Cuba from 1962 to 1985. The roots of her ecumenical involvement at the global level can be traced to her intimate relationship with her own Church.
She was Principal of the Evangelical Theological Seminary in Cuba for 8 years   (1996- 2004). She was vice-president of the World Alliance of Reformed Churches and moderator of their theological Commission (from 2004 to 2010). She was elected as theological adviser of the Latin America Council of Churches General Assembly for the year 2007. In Cuba she taught Ethics and Theology and Gender, and she was Director of a Christian Institute of Theology and Gender. She has received two Doctor Honoris Causa from two very prominent Institutions in India and Canada (John Knox Theological College in Toronto). She is currently a President of the World Council of Churches for Latin American and Caribbean (elected in 2006).
Her articles have appeared in several Cuban theological journals since 1960, and have contributed significantly to the emergence of a contextual Cuban theology.
In international circles over the years she has come to represent the voice of the awakening Latin American Church and the undying spirit of Cuban women.
---
Go Back: Peter Storey                            Next page: Anne Tillery