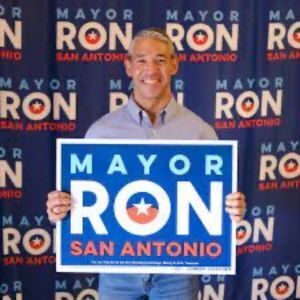 Mayor Nirenberg and Mayor Fischer seen here with his Holiness, the Dalai Lama
It is a Charter tradition to reveal the names of our annual Karen Armstrong Humanitarian Award recipients in our newsletter, one by one.

The first 2023 awardee I am excited to share with you is Mayor Ron Nirenberg, of San Antonio, TX. First elected in 2017, Mayor Nirenberg was re-elected to a third term on May 1, 2021. Through his personal experiences, Mayor Nirenberg developed a core commitment to civic participation and the universal values of liberty, justice, and equal opportunity for every person.
At the U.S. Conference of Mayors 91st Winter Meeting in Washington on January 18, 2023, San Antonio Mayor Ron Nirenberg, Chair of the Conference's Mayors and Business Leaders Center for Compassionate and Equitable Cities, announced that the development of a six-part campaign designed to promote compassion and community healing was underway in his city and would be released for no-cost distribution to all cities at the U.S. Conference of Mayors 91st Annual Meeting in Columbus, Ohio, June 2-5.
In the Columbus meeting on June 4, Mayor Nirenberg launched the campaign, Compassionate USA, as "an earnest and honest remedy to political polarization, civil discord, racialized violence, and the far-reaching impacts of a global pandemic." He described it as "a learning journey designed to teach self-compassion and community well-being that honors our common humanity and affirms the beauty of our differences," and as an effort "to help people develop foundational skill-sets, a shared vocabulary, and a common practice to ultimately decrease violence and trauma and increase individual and collective healing."

Developed by the City of San Antonio, the Alamo Colleges District, and the San Antonio Peace Center, the Compassionate USA campaign includes a video series to introduce learners to key concepts about compassion, a free micro-course to deepen understanding, and a toolkit that provides resources to help create a compassionate community. Detailed information on these components and on formally partnering with the campaign is now available at Compassionate USA.

Please join us at our Compassion Banquet on Wednesday, August 16 at 5 pm, and be present for the award ceremony. While the event takes place during The Parliament of the World's Religions (PoWR), which offers many wonderful educational and experiential opportunities, even those who won't attend PoWR are welcome to participate in the banquet. Click/Tap here to visit our Compassion Banquet page.
- Lynn de Vree