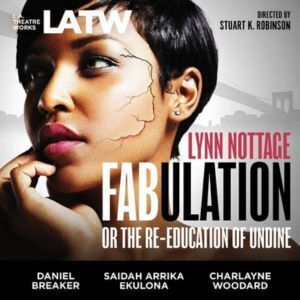 Date: February 27th (available any day or time)
Cost: $4.99

Two-time Pulitzer Prize-winner Lynn Nottage (Sweat, Ruined) begins her Residency 1 at Signature with Fabulation, or The Re-Education of Undine, directed by Obie Award-winner Lileana Blain-Cruz. This satirical tale, set in New York City, follows successful African-American publicist Undine, as she stumbles down the social ladder after her husband steals her hard-earned fortune. Broke and now pregnant, Undine is forced to return to her childhood home in the Brooklyn projects, where she must face the challenges of the life she left behind. Featuring "punchy social insights and the firecracker snap of unexpected humor" (The New York Times), Fabulation reveals how difficult it is to outrun where we come from..
Recorded before a live audience at the Skirball Cultural Center, Los Angeles in October of 2004.
The Playwright: Lynn Nottage
Lynn Nottage is an American Pulitzer Prize-winning playwright and screenwriter. Her work has been produced widely in the United States and throughout the world. She is also the co-founder of Market Road Films, a production company whose projects include The Notorious Mr. Bout and Remote Control.
Her plays often deal with the lives of women of African descent. They include Sweat (Oregon Shakespeare Festival); Lily Award winner, By The Way, Meet Vera Stark, and Crumbs from the Table of Joy (2econd Stage); Ruined, for which she won the Pulitzer Prize for Drama, as well as OBIE, Lucille Lortel, NYDCC, Audelco, Drama Desk, and Outer Critics Circle Awards (Goodman Theatre); OBIE Award-winner, Fabulation, or The Re-Education of Undine, and Mud, River, Stone (Playwrights Horizons); Intimate Apparel, receiving American Theatre Critics, and NYDCC Awards for Best Play (Center Stage); Las Meninas (Rolando Theatre); POOF! (Actors Theatre of Louisville); and Por'knockers (Vineyard Theatre).
---