Lessons From My 7 and Half Years, Often 24/7, Work With Dr. Martin Luther King, Jr.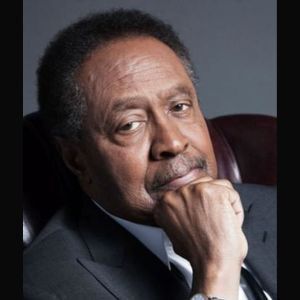 Date: February, 22nd, at 9am PST

Offerings like this are made possible by your support. Please consider donating to the Charter.
In 1962, Martin Luther King wrote a letter recommending his lawyer and advisor, Clarence B. Jones, to the New York State Bar, stating: "Ever since I have known Mr. Jones, I have always seen him as a man of sound judgment, deep insights, and great dedication. I am also convinced that he is a man of great integrity" (King, 29 May 1962).
Jones was born on 8 January 1931 to parents who were domestic workers in Philadelphia, Pennsylvania, and was raised in a foster home and a boarding school in New England. He attended Columbia University beginning in 1949, but his college education was interrupted by military service. Jones was drafted into the Army in August 1953, but was given an "undesirable" discharge as a security risk in April 1955 for refusing to sign the Armed Forces Loyalty Certificate stating that he was not a member of the Communist Party. Federal Bureau of Investigation reports compiled in 1957 identified Jones as a member and leader of the Labor Youth League, described as a Communist Party front organization, during his years at Columbia. His discharge status was later changed to "honorable" on appeal.
Following his discharge, Jones returned to Columbia to complete his BA in 1956. That year he began attending Boston University School of Law, obtaining his LLB in 1959. He and his wife Anne moved to Altadena, California, where Jones established a practice in entertainment law.
Jones joined the team of lawyers defending King in the midst of King's 1960 tax fraud trial; the case was resolved in King's favor in May 1960. Jones and his family relocated to New York to be close to the Harlem office of the Southern Christian Leadership Conference (SCLC), and he joined the firm of Lubell, Lubell, and Jones as a partner. In 1962, Jones became general counsel for the Gandhi Society for Human Rights, SCLC's fundraising arm. Later that year, Jones would advise King to write President John F. Kennedy on the Cuban missile crisis. He urged King to make a statement because "your status as a leader requires that you not be silent about an event and issues so decisive to the world" (Jones, 1 November 1962).
Jones accompanied King, Wyatt Tee Walker, Stanley Levison, Jack O'Dell, and others to the SCLC training facility in Dorchester, Georgia, for an early January 1963 strategy meeting to plan the Birmingham Campaign. Following King's 12 April arrest in Birmingham for violating a related injunction against demonstrations, Jones secretly took King's handwritten response from jail to eight Birmingham clergymen who had denounced the protests in the newspaper. It was typed and circulated among the Birmingham clergy and later printed and distributed nationally as Letter from Birmingham Jail. Jones helped secure bail money for King and the other jailed protesters by flying to New York to meet with New York Governor Nelson Rockefeller, who gave Jones the bail funds directly from his family's vault at Chase Manhattan Bank.
Jones continued to function as King's lawyer and advisor through the remainder of his life, assisting him in drafting the I Have a Dream speech and preserving King's copyright of the momentous address; acting as part of the successful defense team for the SCLC in New York Times v. Sullivan; serving as part of King's inner circle of advisers, called the "research committee"; and contributing with Vincent Harding and Andrew Young to King's Beyond Vietnam address at New York's Riverside Church on 4 April 1967.
After King's death, Jones served as one of the negotiators during the 1971 prison riot at Attica, and was editor and part owner of the New York Amsterdam News from 1971 to 1974. In summing up his sentiments on King's life, Jones remarked in a 2007 interview: Except for Abraham Lincoln and the Emancipation Proclamation of 1863, Martin Luther King, Jr., in 12 years and 4 months from 1956 to 1968, did more to achieve political, economic, and social justice in America than any other event or person in the previous 400 years. (Jones, 18 May 2007).
Audrey E. Kitagawa, JD, is the President/Founder of the International Academy for Multicultural Cooperation, President of the Light of Awareness International Spiritual Family,  and the former Advisor to the Office of the Special Representative of the Secretary General for Children and Armed Conflict at the United Nations.
She is the Chair of the Anti-Racism Initiative,  and Co-Chair of the Gender Equality Working Group of the G20 Interfaith Forum.  She is a United Nations Representative for the United Religions Initiative, an Ambassador of Religions for Peace International, and  Chair Emerita of the NGO Committee of Spirituality, Values and Global Concerns, NY.
Audrey wrote the chapter, Crossing World Views, The Power of Perspective in the Hawaii Japanese American Experience, which was published in a book about multiculturalism, communication and Asian women entitled, Learning In The Light. Her chapter, Globalization As The Fuel For Religious And Ethnic Conflict has been published in the book, Globalization And Identity, Cultural Diversity, Religion and Citizenship. Her article, The Role Of Identity In The Rise And Decline of Buddhism In Hawaii, The 50th State Of The United States Of America, has been published in Sambhodi, a Buddhist Journal. She published articles in World Affairs The Journal Of International Issues, entitled, The Power of Om: Transformation of Consciousness, and Practical Spirituality. She wrote the chapter, The US In Foreign Affairs: Source of Global Security, Or Source of Global Fear? in the book, America & The World The Double Bind. 
She has been listed in Who's Who Of American Law, Who's Who Of American Women, Who's Who In America, Who's Who In The World, and Prominent People of Hawaii.
Mr. Jonathan Granoff is an attorney, author and international advocate emphasizing the legal and ethical dimensions of human development and security, with a specific focus on advancing the rule of law to address international security and the threats posed by nuclear weapons. He serves on numerous governing and advisory boards including: Lawyers Committee on Nuclear Policy, Fortune Forum, Jane Goodall Institute, the NGO Committee on Disarmament, Peace and Security, Parliamentarians for Nuclear Nonproliferation and Disarmament, and Middle Powers Initiative. He is a recipient of the Rutgers University School of Law's Arthur E. Armitage Distinguished Alumni Award and a 2014 nominee for the Nobel Peace Prize.
He is the Senior Advisor and United Nations Representative of the Permanent Secretariat of the World Summits of Nobel Peace Laureates, Ambassador for Peace, Security and Nuclear Disarmament of the Parliament of the Worlds Religions, former Adjunct Professor of International Law at Widener University School of Law, and Chair of the Task Force on Nuclear Non-proliferation and Advisor to the Committee on National Security of the International Law Section of the American Bar Association.
Mr. Granoff is the award-winning screenwriter of The Constitution: The Document that Created a Nation and a prolific author. He has been a featured guest and expert commentator on numerous radio and television programs, and has presented expert testimony in the Parliaments of Canada and the United Kingdom as well as the US Congress and the United Nations.
The Right Rev. William E. Swing, 7th Bishop of the Episcopal Diocese of California (1980-2006), was born in Huntington, West Virginia. He graduated from Kenyon College and Virginia Theological Seminary, and holds six honorary degrees. Bishop Swing served as a priest in Wheeling, Weirton, and Chester, West Virginia. He also started a church at Waterford Park Race Track in Chester, pioneered homeless work in San Francisco, and played a critical role in saving St. Luke's Hospital. He served on the Board of the American Foundation for AIDS research for 20 years and has spoken throughout the world. He was instrumental in starting a capital development bank in Oakland. He is known as an outspoken leader about the standing of gays and lesbians in the church. He led the radical expansion of the Bishop's Ranch in Healdsburg, California. Bishop Swing is the Founder and President Emeritus of the United Religions Initiative.
Bill Swing's big idea ran into trouble almost immediately after he thought of it 23 years ago.
Yet Swing's widely rebuffed notion — to create a United Nations equivalent for the world's religions to work together in peace — is today a million-person global powerhouse that educates children, fends off terrorist recruitment and, improbably, turns religious opponents into allies in over 110 countries. So far.
How Swing effected change for the good around the world is a story of ingenuity and, some might say, extraordinary vision nourished by compassion.
Bishop Swing is an inspirational speaker and an author, most recently of A Bishop's Quest: Founding a United Religions and The Sacred and the Silly: A Bishop's Playful and Eventful Life.
---