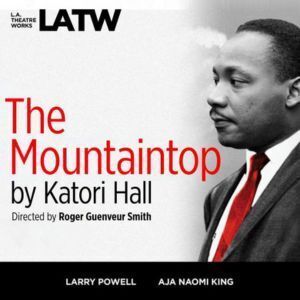 Date: February 13 (available any day or time)
Cost: $4.99
On April 4th, 1968, Martin Luther King Jr. was assassinated outside of his room at the Lorraine Motel in Memphis. What happened inside room 306 on the evening of April 3rd is the subject of Katori Hall's The Mountaintop. Hours after King's final speech, punctuated by his immortal line, "I've been to the mountaintop," the celebrated Reverend forms an unlikely friendship with a motel maid as they talk into the early hours of what will be his final day.
Recorded in Los Angeles before a live audience at The James Bridges Theater, UCLA in May of 2016.
More about the Play
There's a storm brewing at the Lorraine Motel. And the electricity in room 306 may just overpower the lightning outside, as a weary hero receives a smoke and a reality check from a mysterious housekeeper; both of them roiled by the repercussions. A growing moment of connection, unpredicted and unpredictable. It's  a conversation about racism and justice and holey socks. About the divergent paths of legacy, and how sometimes a great man is also human. A riveting, poetic journey through Martin Luther King Jr.'s missing minutes on April 3, 1968.
Summary
The night before his assassination, Martin Luther King, Jr. returns to the Lorraine Hotel after delivering his last impassioned speech, I've Been to the Mountaintop. A mysterious maid delivers his room service, though she seems to have more on her agenda than a simple meal. As their conversation progresses, true intentions come to light in a story written to humanize Dr. King, to help us understand that you don't have to be superhuman to be a hero. 
---