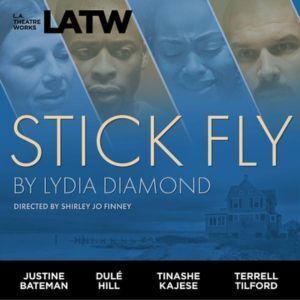 Date: February 14 (available any day or time)
Cost: $4.99
In Lydia Diamond's powerful comedy-drama, sensitive 'Spoon' LeVay and his brother, Flip, see their weekend at the family home on Martha's Vineyard as a perfect opportunity to introduce their girlfriends to their upper class African-American parents. Instead, they stumble into a domestic powder keg that exposes secrets of prejudice, hypocrisy, and adultery.
Recorded before a live audience at the Skirball Cultural Center, Los Angeles in November of 2007.
Playwright: Lydia Diamond
Lydia Diamond is an American playwright. Her play, Stick Fly, was produced on Broadway by musician Alicia Keys, filmmaker Reuben Cannon, and legendary Broadway producer Nelle Nugent (Cort Theatre). Her Off-Broadway play, Smart People, stars Joshua Jackson and Tessa Thompson (2econd Stage).
Other plays include Here I Am...See Can You Handle It (Bailiwick Repertory); Stage Black and The Inside, adapted from the poems of Nikki Giovanni (Victory Gardens Theater); The Gift Horse (Goodman Theatre); Our War and The Bluest Eye, adapted from Toni Morrison's novel (Arena Stage); Brink! (Actors Theatre of Louisville); Harriet Jacobs, adapted from Incidents in the Life of a Slave Girl (Steppenwolf Theatre), The White Bride and the Black Bride (Nancy and Edward Roberts Studio Theatre), and Voyeurs de Venus, a JEFF Award winner for Best New Work (Plaza Theatre).
---